Interesting Story Of Identical Twins Married To Identical Twins & Still gave Birth To Identical Twins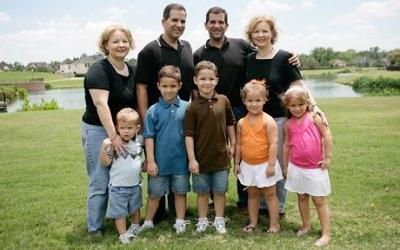 When identical twin sisters Diane and Darlene Nettemeier met identical twin brothers Craig and Mark Sanders a decade ago, they could never have guessed just how much of their lives would be based around perfect sets of two.
The sets of twins, from Texas, fell in love, went on a double date to Las Vegas, and won thousands of dollars at poker.
Sensing they were on a winning streak, they got engaged on the same day, married at a joint ceremony and built a pair of homes, side by side.
Soon afterwards, despite a million-to-one odds, Diane and Craig went on to have identical twins of their own - Colby and Brady, now seven.
But the happy unions weren't all down to incredible odds - one decade after they started dating Craig, 44, and Diane, 37, are returning to the Twin Day festival in Twinsburg, Ohio, where they met in 1998.
This year they will be taking their own seven-year-old boys to celebrate their good fortune at being part of a double double-act.
Twin Days are annual gatherings in which genetically identical siblings gather, in matching outfits, to celebrate sameness.
Five weeks after meeting "the girls", the Sanders twins went to visit them in St Louis, where the sisters lived together, and had their first kisses in the Busch Stadium parking lot after watching the Astros play the Cardinals in baseball.
The following winter, the sisters went to visit the brothers in Houston, where they celebrated New Year's Eve at a restaurant called Sabine-- because it was owned by twins, naturally.