My Valentine Story (The Stranger At The Beach)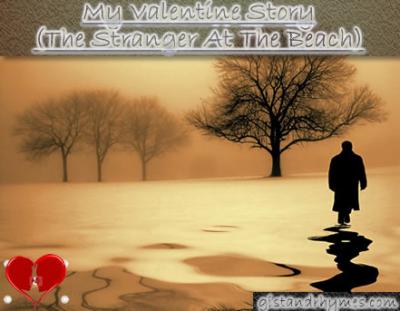 Read Previous Chapter Here
My encounter with the stranger at the beach, faded from memory like most encounters I have with guys that seek my attention, it never came to my mind again until about a week after the beach outing, I was doing my laundry and I was going through the pockets of the clothing I was to wash like I normally do, when my hands touched an item in the back pocket of the bum short I was wearing on the day of the outing, I brought it out and it turned out to be a business card with the name "ken Jones", it also had two contact numbers and email address, I tried to remember where I must have gotten the card, I flipped it over and I saw these words "you stared at the ocean waves with so much affection, so much your beautiful pose caught my attention." "Call me"
The memory of the beach outing flooded my mind like I was caught in the path of a tsunamic wave of remembrance, my encounter with the stranger at the beach and his last statement "I'll see you soon" came back to me with such clarity that I could suddenly remember the fragrance of his cologne, my laundry was immediately put on hold as I kept wondering how the stranger got his card in my pocket, perhaps I was so focused on trying to block him out of my mind that day that I failed to notice him sneaking the card into my pocket.
The stranger at the beach now had a name ''ken jones", in my mind I was like "how dare you play a fast one on me" at the same time I was intrigued by how he managed to pull that off, I couldn't bring myself to tearing the card or throwing it away but I could not bring myself to calling the number either, I kept the card for another one week before I eventually called him and as soon as I spoke he was quick to call me by name, saying "is that Kim?" that caught me by surprise as this was beginning to look like something out of the movie, but he was quick to remind me how my friend called out my name when they returned to me at the beach and also how my sarcastic reply to him made it impossible for him to forget my voice, however different it sounded on the phone.
We kept in touch on the phone and soon became friends on Facebook and I discovered we had quite a number of mutual friends, friends of mine who knew him very well, he called me regularly and we chatted online, this continued for another six months and in all that time he never suggested wanting to see me, a year after the encounter we indeed met again and this time he was no longer a stranger and I didn't speak to him with sarcasm, our friendship blossomed into courtship and two years down the line, I and ken Jones got married and two years into our marriage we are still so caught up in love like we just met.
Turns out my encounter with the stranger at the beach on Valentine's Day became a wonderful love story, how well do you respond to stranger? Do you snub them? Like I did or you just don't give audience to them? Well, remember to entertain strangers some in that manner entertain angels and don't forget to be mindful of strangers as well , some out of carelessness have lost their lives, be smart, follow your heart and live everyday like it is valentine's day.
Happy Valentine's Day
Story By